So, interpreter! How did you manage that? The story of Donald Rutherford!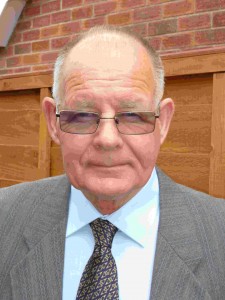 My first encounter with grammar was at the hands of Miss Mcleod at Pediston primary school in the Scottish Highlands, where I learned about nouns, verbs, adjectives and so on. I didn't see much point in it then little knowing how much it would help me in learning a foreign language.
I was first taught French from the age of eleven at Hawick High School in 1952 but gave it up in the second year. I lived out in the country in Scotland and the only people I knew who had been to France were ex-servicemen. I was sure, that I would never travel to France.
I left school with a good basic education but no qualifications; worked, served in the Army, was demobbed and achieved City and Guilds Advanced Certificate in welding.
During my time with the Army, I was stationed with the UN on Cyprus and learned a little Turkish, as I was stationed in Turkish villages. If I had been stationed in Greek villages, I would probably have learned Greek.
I briefly visited Germany on two occasions and these two visits aroused the interest in me and I started to learn German at evening class, after the welding course.
I was 28 years old, at this time so rather a late starter.
After two years, I started work as a welder in Germany. I took a,"Teach Yourself German" book with me and by studying in the evenings and practicing during the day, honed my skills.
Almost invariably, I was the only German speaker in a group of British workers and so did a great deal of interpreting. If anyone needed first aid or had to go to a hospital, I usually went with them. I resolved workplace disputes to the best of my ability.
After some years, I returned to UK and started work as a welder with a company which produced lorries and busses, informing personnel that I spoke German.
A few years later, I achieved the Institute of Linguists Final Diploma. Some years after that, a group of German distributors came to visit and I spent half a day acting as interpreter. During this time, I also taught at evening class whilst looking for a full time teaching job.
After the foreign part of the company went bankrupt, our firm was sold in pieces and I worked for one of the new companies formed doing the same job as before (welding) as well as translating the odd letter or piece of technical work.
After many years with that company, I left to work as a bi lingual accounts manager in a nearby town and worked there for almost ten years. My fellow workers there were great but the job was not really to my liking.
Towards the end of my time there, I enrolled on a public service interpreting course run by Interp-Right, a training agency, at Salford University.
At about this time, telephone interpreting work started to come in. I was working late shift so used to log in for interpreting three hours each forenoon.
I then decided to take the plunge and go self employed.
As I was paying monthly for my course on a credit card and needed train fares, books and so on, more money was going out as coming in but, eventually, I got on even keel. I completed the course, not missing a single day but did not sit the exam. I did not take the exam as I simply could no afford it at that time but I learned a great deal on that course.
I have been self employed for well over two years now, doing almost only telephone interpreting and getting along nicely, although I am not making a fortune.
Many people have helped me along the way and I am grateful to them all.
Perhaps I should have stuck with French at secondary school and then chosen interpreting as a career but it is always easy to be wise after the event.
Donald is a German/English free-lance interpreter, is a Member of the Chartered Institute of Linguists. He can be found on facebook under German interpreters and translators as well as on Linkedin. He has spent many years working as a welder both in Germany and UK.